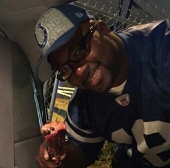 Obituary for Antonio Dewan Benefield
Antonio "Tony" Benefield, the son of James and Mildred Benefield was born April 27, 1978.  Though born in Merryville Indiana, Tony spent most of his life in Jacksonville NC.
 At the age of 17, he decided to follow his father's footsteps and joined the military.  He spent several years serving his country in the Army Reserves.  Following his military service he received his degree in Emergency Medical Science allowing him to pursue his dream of becoming a paramedic.  Tony was employed by Onslow County EMS where he passionately served his community for more than 10 years.  His love for medicine and helping others inspired him to further his education in this area.  Tony was months away from receiving a degree in Registered Nursing and planned to continue on to become a Physician's Assistant.
 Tony was a laid back kind of guy with a true love for life, family, and friends.  He enjoyed fishing, family gatherings, and football.  Above anything else, he loved spending time with his three beautiful children.
 Tony leaves behind a lifetime of memories with his parents James and Mildred Benefield Sr., of Jacksonville; one brother, James Benefield Jr. of Tulsa, OK; and a sister, Almeda Benefield of Jacksonville; two daughters, Mikaela and Zamaria Benefield of Jacksonville and one son, Elias Benefield of Durham; two nieces Ciera Andrade and Marhissa Benefield.  He also leaves behind an extended family and many friends.
Funeral services will be held Thursday May 12 at 6pm at Saunders Funeral Home. Visitation will be from 4-6 pm prior to the service.
In lieu of flowers the family wishes that any donations be made to The Little Bank in Tony's name.