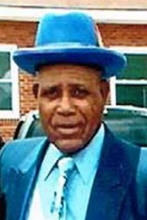 Obituary for Earnest L. Pickette
Daytona Beach Florida - Earnest L. Pickett, 80, originally of Jacksonville, North Carolina, died May 14, 2016 at Halifax Hospice Home in Daytona Beach, Florida. 
A memorial service will be held 3pm, Sunday May, 22, 2016  at Saunders Funeral Home.
Survivors include his wife Pearl Pickett of the home; sons, Bobbie Lee Pickett and Earnest Pickett, Jr. both of Jacksonville, Tommie Jackson of Daytona Beach, Florida; brother, Buddy Pickett of Jacksonville; sister, Betty Jo Pickett Sanders of New Bern, NC.