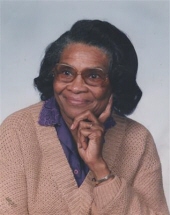 Obituary for Vannie Tyrance Parker
Vanie T. Parker, 92, of Charlottesville, Va. formerly of Jacksonville, NC, entered into eternal rest on Friday, May 13, 2016 at a local health care center.  A celebration of life will be held 12:00 Noon Friday, May 20, 2016 at Mt. Zion First African Baptist Church, Charlottesville, VA with the Rev. Dr. Elvin Edwards officiating and 1:00 p.m. Saturday, May 21, 2016 at Marshall Chapel Missionary Baptist Church with Rev. William C. Jones, Pastor. Interment will follow in the Parker Family Cemetery, Marshall Chapel Road, Jacksonville, NC.

She was the daughter of the late McKeva Shepard and Addie Tyrance Ambrose Evans. She was preceded in death by her spouse William Parker.

She leaves to cherish her memory a loving and devoted family, one son, Eric Parker and his wife Brenda, of Landsdale, Pa. three daughters; Beverly and her husband Gerald Terrell, Sr. of Charlottesville, Va., Starr Williams of Topeka, Kansas and Ava Thompson of Wyncote, Pa. two sisters; Dottie J. Newell of Greensboro, NC and Torrie Jones of Jacksonville, NC. 10 grand and 12 great-grandchildren and a host of other beloved relatives and friends.