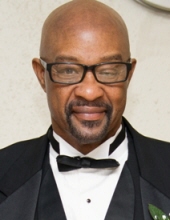 Obituary for William Ira Young, Jr
Dr. William Ira Young, Jr., 66 of Hampton, Virginia and formerly of Maysville, North Carolina departed this life on May 16, 2016 at 6:00am at Duke Medical Center in Durham, North Carolina.
Home going services will be held 1pm Saturday, May 21, 2016 at The Northwest Tabernacle, 1124 10 Mile Fork Road, Trenton, North Carolina 28585. A visitation will be held 6pm to 7pm Friday, May 20, 2016 at Saunders Funeral Home.
He was preceded in death by his parents William and Gladys Young of Maysville, NC.
He is survived by two sons, Carlos Young (Lynn) of Jacksonville, NC and Frank Young of Hampton, VA, four daughters Latricia Young-Thompson (Arthur) of Swansboro, NC, Desiree Young of Greensboro, NC, Rachelle and Rachel Hunley of Richmond, VA, four brothers Jervens Young (Tina) of Maysville, NC, Steve Young of Forestville, MD, Clennie Young (Phyllis) of Lawton, OK, Rodney Young (April) of Maysville, NC, three sisters, Patricia Pollard of Toledo, OH, Carrie Dickens of Clinton, MD, Carol Raynor of Bogue Sound, NC and six grandchildren Arneisha Thompson, Amoni Young, A'yona Thompson, Savion Young, Azjah Thompson and Benjamin Young.
The family will receive visitors at the home of Jervens and Tina Young at 115 Young Lane, Maysville, NC.
The service will be officiated by Pastor Jerome A. Barber of Sixth Mount Zion Church in Hampton, VA and Pastor Harold Nance of Myrtle Grove Christian Church in Maysville, NC.
Interment will be held at White Oak Memorial Cemetery in Maysville, NC. Arrangements and acknowledgement are being made and accepted by Saunders Funeral Home, 210 Bell Fork Road, Jacksonville, NC.
Repast will be held at Myrtle Grove Christian Church, Hwy 5812 South, Maysville, NC.